Seashore Ceramics
By Karen Pereczes

As appeared in Pembrokeshire Life magazine. Copyright Karen Pereczes 2005.

Helen Astley is a local artist whose work is inspired by the Pembrokeshire coast, particularly at Manorbier where she lives with her husband and two daughters.

I was invited to view her work as part of an exhibition at the West Wales School of the Arts in Carmarthen, where she has just completed a four-year Higher National Diploma course in Ceramics.

Helen explains: "While exploring facets of nature and notions of containment, I gravitated towards the seashore, which I have always found to be a source of fascination.

The cracking of lichen on the surface of rock, the rushing of foam where the line of sea reaches across the sand, the stillness of the tide-filled rock pool, the magnitude of sheer rock face, the rock's coats of crusty barnacles... each has its own energy, each relates to the other."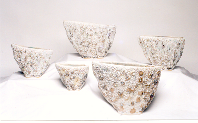 Helen's work originated from experiments based on the sculptural forms of seaweed, by using slip clay and moulds. Helen explains: "Although this was a great starting point, eventually I found this limiting. I naturally progressed on to hand building each piece using stoneware clay, which enabled me to express my ideas."
Helen experimented with different glazes to successfully create the texture of barnacle-encrusted rock and the essence of the seashore by high-firing stoneware, on ceramic pieces entitled 'Small Vessels 1 & 2', and 'Medium Vessels 1, 2 & 3'. Her sensitive use of colour is subtly effective.
Her larger pieces, entitled 'Large Vessels 1 & 2', are suggestive of ancient standing stones of megalithic proportions, echoing the shape of the cliff edge where the land meets the sea.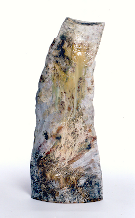 "I am particularly interested in the 'negative' spaces within the landscape - such as those created by geological movement, natural erosion or tidal currents. Each space between ridges of sand expresses a positive force and a positive form."
Helen has also used her photographic skills to create a print onto silk entitled 'Pool', depicting tide-filled ridges of sand, which hangs as a backdrop, complementing her ceramic pieces.
"My experiences have led me to draw comparisons with the positive and negative 'spaces' between us in our human relationships and how we relate to one another."