In The Footsteps of Pirates
By Karen Pereczes
As appeared in Country Walking magazine. Copyright Karen Pereczes 2005.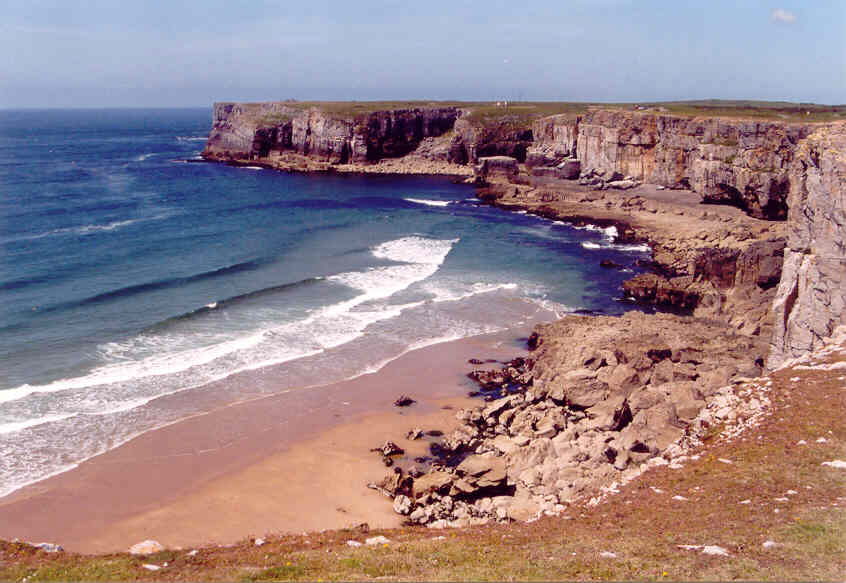 A life lived in fear is a life half-lived I tell myself, as I nervously approach the 'man over cliff' warning sign. I peek over the precipice at the sea below, waves crashing onto jagged boulders, and inhale the air and saltwater spray. The terrain is wild, dangerous... and breathtakingly beautiful.
I'm walking the south Pembrokeshire Coast Path with Country Walking's Nicola and my 14-month-old daughter, Eocha. And today we're in search of Pembrokeshire's pirates. Ahead of us is Stack Rocks and we pause for a fantastic aerobatic display, guillemots performing freefalling spirals in the spray. Stack Rocks is also known as Elegug Stacks; Elegug being the Welsh word for guillemot. Two huge pillars of detached limestone are home to large colonies of these classic seabirds, as well as fulmar petrels, razorbills and many gulls.
To our west is a stretch of coastline that to this day still suffers at the hands of warmongering seafarers, though those of a more modern variety... the coastline is permanently closed due to unexploded missiles. But a notice ahead tells us that the path to the east is open - there is no firing at Castlemartin military range today.
In the distance is the 'Green Bridge of Wales' - a magnificent natural limestone arch, and immediately east is Flimston Castle; an Iron Age fort with stone banks enclosing the Cauldron - a massive blowhole 150 feet deep. Below are caves and a natural harbour. Whoever sailed from here would need to have been highly skilled to negotiate the 25-foot rise and fall of the tide and the powerful current.
Clinging to the cliffs of the secluded headland is a 6th century Celtic hermitage, founded when St. Govan hid in a rocky fissure to escape from Pembrokeshire's pirates and, thankful for his life, built a chapel on that very spot. Nobody knows St. Govan's true identity. Some say he was Sir Gawain, King Arthur's nephew and a Knight of the Round Table, while others say he was an Irish abbot, St. Gobham.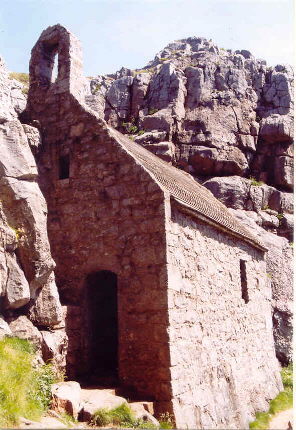 I attempt to count the steep, uneven steps underfoot that legend says number differently down and up - and tally 72 as I descend. No doubt the number will change on my return. St. Govan's Head is the southernmost point of Pembrokeshire - on a clear day offering views of Devon and Cornwall, the Gower Peninsula and Lundy Island. Below is New Quay, an old harbour and favourite pirate landing spot. A cargo of spirits smuggled from here in 1833 was carried off in bags on horseback and distributed locally - reminding me of the film Whisky Galore. Are we getting closer with our quest?
At Broad Haven beach, with its spectacular 'Church Rock', I can't help looking to the horizon and wondering how it must have felt to be out on the high seas during the Golden Age of piracy, living in fear of pirates like Pembrokeshire-born Bartholomew Roberts, aka 'Black Bart', one of the most successful and menacing pirates of all time.
In his time Bart captured 400 ships and collected £80 million of treasure. But he is better remembered as the originator of the universal pirate emblem - the Skull and Crossbones. Because he wore a red coat, the French called him 'Le Joli Rouge', which was corrupted to Jolly Roger by the English and eventually became associated with the flag, rather than the person.
A little further down the coast and we reach the village of Manorbier. Gerald of Wales, a writer, historian and ecclesiastic, who was born in Manorbier castle in 1146, described this area as 'the pleasantest spot in Wales', and I have to agree with his sentiment, if not his grammar. As I walk past the Neolithic cromlech known as 'King's Quoit' to Priest's Nose, it's easy to understand why this spot has a long history as a sacred place. The landscape is powerful and dramatic and exudes an energy that has inspired men and women throughout the ages, people like Virginia Woolf, who wrote 'The Waves' during her time here.
Shortly after the turquoise waters of Precipe Bay - whose hidden depths conceal the sunken wreck of the Tormentor, a torpedo boat destroyer that sank in 1929 - the path goes inland, taking a detour around the Royal Artillery Range that, sadly, prohibits access to Old Castle Head - a fort dated at 300BC. Nicola, Eocha and I continue to Skrinkle Haven, where fingers of Carboniferous Limestone and Old Red Sandstone rock, with its natural arches known as the 'Church Doors', stretch across golden sand to dip into the sea. Fulmars and razorbills nest on these cliffs, while gulls noisily catch the breeze.
After the spectacular vertical beds of limestone at Skomar, and its Iron Age fort, the path descends steeply down a gorge to Lydstep Caverns. Here, a great blowhole called Draught provided access to 'Smugglers Cave'. As it is low tide, we clamber down to explore inside. The rock formations are a higgledy-piggledy mix of giant molar teeth and tall reaching spires surrounding hollow caverns.
Looking out to sea from Lydstep Point is Caldey Island, where Cistercian monks continue a tradition of prayer and peaceful living that began in Celtic times. But the island has a lesser known, more violent past... smugglers hid their booty in Cathedral Caves, and Caldey was a refuge for Pembrokeshire's most notorious freebooter John Paul Jones and his fantastically named lookout Leekie Porridge.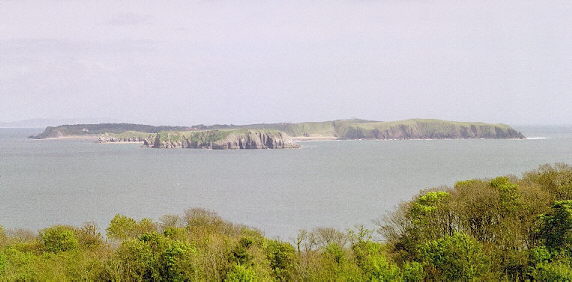 Jones, a ruthless marauding pirate akin to the legendary Blackbeard, was born in Scotland and is credited by some as being the founder of the US Navy. He regularly moored up at Caldey to take on fresh water, anchoring in what is still known today as 'Paul Jones Bay'. It is said that when he died in 1792 his body was pushed into a crevice in the rocks near Ord Point.
Captain Henry Morgan, whose name today is forever linked with bottles of rum, also hid out on Caldey Island. Born around 1635 in Llanrumney, Monmouthshire, this Welshman sailed as a privateer, though his behaviour was, at times, more like that of a mercenary. In I67I, when returning from plundering the city of Panama, he left most of his faithful followers behind, without ships or food, slipping off in the night with most of the booty to Jamaica. Towards the end of his life, Henry Morgan is said to have bought an estate in Jamaica, and the Welsh accent is credited as being the origin of the Caribbean accent today.
Nowadays, fishing and pleasure boats have taken the place of sloops and schooners - but, for me, this part of Pembrokeshire, with its with its secret caves and coves, will always be remembered as the Pirate Path.