The Ghosts of Manorbier's Victorian Past
By Karen Pereczes
As appeared in Pembrokeshire Life magazine. Copyright Karen Pereczes 2005.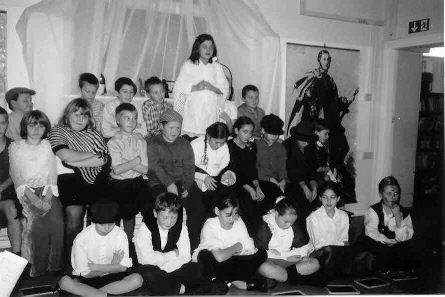 Let's face it; learning history can be dull. Very dull indeed. If only we could bring it to life somehow... turn it into a more physical and direct experience. This was the intention of Broken Mask Theatre resources from the Torch Theatre's outreach work scheme - an organisation providing opportunities for young people aged 9 to 18 - to incorporate their knowledge and understanding of history in a non-narrative performance.
With the guidance of professional theatre practitioner Andy Greenhouse, the pupils of Class 4 at Manorbier Primary School took part in a unique project. Using the school logbook as a genuine artifact to gain an insight into the lives of the pupils at their school during the Victorian era, the children devised a performance... entitled 'Postcards From the Past - A Museum of Moving Memorabilia'.
Explains Andy: "The aim was to show the young people taking part, as well as the audience, that theatre doesn't have to be 'something that takes place on a stage' - that it can be very lively and entertaining, funny and tragic at the same time."
Jackie Greenhouse has been head teacher at Manorbier School for the past 14 years. She explains: "We can teach a lot of historical skills - how to look for facts and use documentation - but empathy for what has happened in the past can only really be taught by giving the children an opportunity to feel, and this was a fantastic way of doing that."
Manorbier School was founded on the January 13th 1873. It is clear from the earliest logbooks - a daily diary written by the headmaster - that the school was very strict. Most lessons were practicing arithmetic, learning things by rote and learning about the Empire. It was badly ventilated and very cold in winter. Over 100 children attended the school, whose headmaster was James Quarterman.
Says Andy, who also played the part of headmaster in the performance: "He'd previously been a tailor who, I think, was a very kind and open-minded man wanting to do the best to educate children. He wasn't the character I played in the performance, who was a very 'Dickensian' character... an evil tyrant!"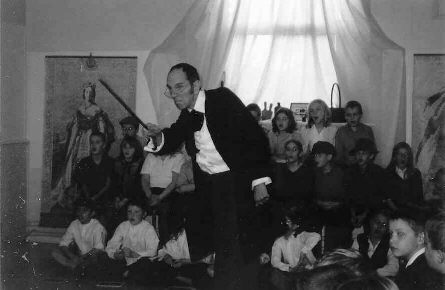 Today, Manorbier School is one of very few primary schools in the UK teaching philosophy. "Because of this, I knew the children had developed their thinking skills and would be very open to lots of different ideas," explains Andy. "The more their imagination could be enlivened, the more they could give themselves to the process - even if they didn't see themselves as actors, dancers or singers. I think they liked the idea that everybody had a part to play, but no one person played the starring role."
For two months leading up to the event, Class 4 had weekly drama workshops. During these 45-minute sessions, the pupils improvised in groups with increasing confidence, developing ideas along with the use of voice and body to communicate in a dramatic context.
"The first day I arrived, there was a very difficult young man who was trying to gauge who I was and what it was all about," describes Andy, "and I saw him grow and transform into being totally responsible and determined that the whole thing would work... not just for him, but also for everybody else. I think that says everything."
Adds Jackie: "The 'cool dudes' of the class became so engaged in what they were doing, that those around them felt it was okay too. We saw peer group pressure at its very best!"
"During the classroom scene in the performance, I thought it would be amusing to ask some outrageous questions from the curriculum of the time to the parents in the audience - knowing that they wouldn't know the answers - and give the answers to the kids," Andy chuckles. "There was a wonderful moment when we were rehearsing this, and I asked one girl where silver came from. She answered, "From the end of the rainbow?" That innocence is just so perfect, and so it became part of the performance. When the audience laughed she knew it was because she had given the wrong answer and that when you perform, you can do or say something funny but they're not laughing at you, they're laughing at whatever's going on."
Through their research, the children became personally involved with the history of the pupils who used to attend the school. By choosing entries from the school logbook that appealed to them, they integrated these true events in their performance:
28th March 1873 - 57 present this afternoon. Many wanted at home to assist with the potatoes.
4th July 1873 - A revolution! On coming into school at 1.15 I found the front door fastened and a stool placed against it - the lower door at which I entered was also partially barred. The delinquents, after a caution, were made to stand out in front of the desk till 3.30 to do their work then detained to write the word contrivance till 4.30.
22nd August 1873 - Alf Watkins who had been smoking on the way to school was sick just after I marked the register and seemingly with some pleasure to the others.
29th October 1874 - Last evening on going home, G. Morris quarrelled with Alf Watkins and threw him down in the mud and T. Lewis was throwing stones at some girls hitting Martha Rodgers on the head. Punished T. Lewis with the cane.
20th September 1875 - G. Morris, First Class, was killed falling from a cart.
Explains Andy: "Certain names repeatedly came up when we looked in the old logbook... John Nichols, who got into trouble for 'making water' in someone's bag, and William Kenna, the loveable rogue of the school, became a star to Class 4 - who wanted these characters to be included in the final piece."
But there was a major tragic event recorded in the logbook that really captured Class 4's attention... co-incidentally (albeit rather spookily) the performance took place on the 1st of December 2004 in the old school hall - exactly 125 years after this entry was written in the school logbook:
1st December 1879 - School not opened, an outbreak of diphtheria in the parish. Dr. Sear recommended the managers close the school. Since last Friday four children have died: Eliz Thomas, Florence Thomas, Catherine Thomas and Mary Ann Allen.
Altogether, 12 children were lost. Says Jackie: "It was made all the more poignant by the fact that those children had been taught in the same room as all the drama that took place. Class 4 soon realised after they had been over to the graveyard and recognised the names that they were using how many of the class, who were their age, had tragically died in such a short period of time."
Says Iwan Izzard, aged 10: "When we went to see their graves I felt a bit scared, because they'd been in the hall of Manorbier School hundreds of years ago."
"On one occasion during rehearsals I asked 12 people to leave the room, and see who was left," says Andy. "It really sunk in what a loss that would be to them. If you can be empathetic to a piece of history, then whatever performance you give will have a certain honesty about it."
The resulting performance was a real event - a living museum of the Victorian times - an environment created by using artifacts and memorabilia, songs, dance, recitations and role-play. Backstage, the children waited with nervous excitement for their cue:
"We are gathered together for a visitation. For across the road are graves - graves of those that once were taught in this very room... the original room of Manorbier School. Be careful, for those that are to come amongst us once stood in this room and part of their story you will hear. Their surnames may appear reflected on our War Memorial and certainly in the churchyard nearby. They are of you, but are not you. So let these ghosts appear... "
The performance was very moving, educational, amusing and very entertaining. With the help of Class 4's support teacher - Phil Okwedy - the hall had been transformed so that, for the audience, it was like travelling back in time.
"You really did suspend disbelief, because these children were feeling how it would be to be in that situation at another time," says Jackie. "They became very much a part of a team, where the least likely people became the strongest leaders. Although Andy provided the structure of what they were going to do, the real work came from them."
Gabriella Coates, aged 9, taught her classmate Rowan Griffiths, aged 9, some Welsh-speaking parts especially for the performance. Says Gabriella: "I thought it was very good because Rowan did really well with her Welsh."
Leif Sutton-Williams, aged 10, said: "It was fun and interesting. We learned how to act and I thought Andy was very patient with us, since we were only beginners. I felt more confident after performing - it makes you go out there."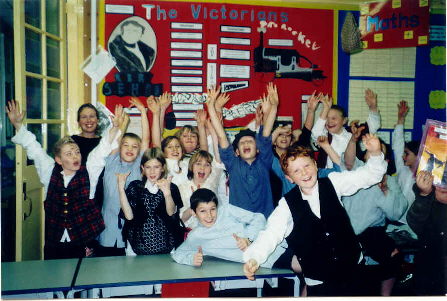 Niki Stenson, Class 4's teacher, adds: "Class 4 have really worked hard and I know they have enjoyed working with Andy as he has taught them so much. What they had been learning about the Victorian era through books in class was being consolidated through drama, which was fantastic. I'm so proud of everyone, especially those who overcame their fears to get up on stage and perform."