High Tide High Jinks
By Karen Pereczes
As appeared in Pembrokeshire Life magazine. Copyright Karen Pereczes 2005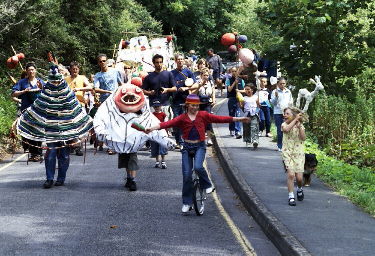 Although in its second year and still in its infancy, the High Tide summer workshops at Manorbier and Skrinkle proved that community spirit is not a thing of the past.
For three weeks during July, adults and children were given the exciting opportunity to work alongside local professional artist and craftsman Chris Elliott and locals - musician Vince Pereczes, Sarah Rigby and Spencer Thornton - to create a unique carnival event.
"The aim of High Tide is to unite both the young and old in celebration of their community and to share a creative process together as a team," explained Angela Rogers - High Tide's kingpin and secretary of the event's organisers, Manorbier And District Community Arts Programme (MADCAP).
"We felt the event was particularly successful this year, as more parents and grandparents became involved and inspired. This happened spontaneously and helped to bridge generation gaps and integrate new members into the community."
The festivities began with a weekend lantern-making workshop at Manorbier village hall. This was followed by two weeks of hay and straw sculpture-making workshops in the castle park. Local farmer and MADCAP chairman - Dave Morgan - donated the bales of hay, which Chris and Spencer used to create a huge rabbit head and lizard from straw 'sausages'.
"There were a few dodgy moments when the weather was against us... during one blustery downpour the rabbit blew across to the back corner and the lizard slid under a bush," chuckled Chris. "The straw was like tumbleweed blowing around the park!"
The real fun began during the five-day summer camp workshops at the community centre in Skrinkle, where 25 youngsters - whose ages ranged from 5 to 15 - took part. Taking inspiration from the surreal paintings of 14th century medieval monk Hieronymous Bosch, the children chose details from his work - turning their drawings into 3-dimensional sculptural forms.
Says Chris: "The children learned a lot about the use of shape, colour and form using Hieronymous Bosch for reference. The surreal detail in his paintings really fired their imagination and the diversity of his painting content meant that everyone could find something interesting to focus on and interpret in their own unique and individual way."
Lorraine Tozeland whose daughter, 8-year-old Caitlin Buck, took part in the event explained: "The whole experience really boosted her confidence. She was so proud of everything she had made... she wouldn't stop talking about it! It changed Caitlin's whole outlook on creativity - thinking differently about art and sculpture, using her imagination in an abstract way. She was deeply inspired and continued to make and create things at home, sharing all she had learned with her brothers - so it enriched the whole family. Taking part in this workshop fully integrated her into the community, where she now really feels she belongs."
Music was an integral part of this year's workshop, with a focus on involving sound as well as visual arts in the procession. Led by local musician Vince Pereczes, the young people worked on a calypso rhythm and song during the week. There was also the opportunity to make a 'Berimbau' - a traditional instrument from Brazil. The youngsters also made brightly painted 'shakers' - using plastic bottles and experimenting with the sound that different dried pulses made. These were used to add percussive sounds to the final procession.
Having recently taken part in the Community Music Wales teacher-training scheme, Vince was able to apply the things he had learned on the course. "We set aside time each day to learn and rehearse our performance. To begin with it was complete chaos - everyone wanting to bash this drum and that!" laughed Vince. "Once they heard the sound they could make together using simple rhythms in two groups they gained confidence and were much more willing to work as an organised team."
Anna Knibb, whose 5-year-old daughter Annabel took part in the workshop, said: "I was particularly impressed with how much we created throughout the week with the limited resources that were available."
The climax of the event was a weird and wonderful parade through the village. 9 year-old local youngster Loren Sawyer led the way dressed as a comical gargoyle, followed by a host of carnivalesque images ranging from the exotic to the bizarre - birds, snakes, lizards, giraffes and strange fruits bobbed along on sticks to the rhythm of drums and shakers. The procession meandered to the beach, where the youngsters then performed the calypso piece they had learned. Manorbier Women's Institute provided refreshments for visitors to the event under a decorated awning, which also became a focal point for those generally visiting the beach.
During the afternoon, the musical theme continued with a percussion workshop on the beach - led by internationally acclaimed blind multi-instrumentalist Hassan Erraji from Morocco. This was followed by a fantastic evening performance by Hassan and his band at the community centre, thanks to the Arts Council of Wales' Community Touring Unit 'Night Out' Scheme, whose aim is to bring professional performers to communities throughout Wales.
"We are keen that the event is sustainable and grows every year to include more activities and encourage even more people to participate," said Angela. "Already we are planning for next year and are hoping to run a residency at Manorbier School as well as offering workshops for the many groups of young people who stay at Manorbier Youth Hostel."
Ultimately this will offer more opportunities for more people, both locals and visitors alike, to be included in an event that they can truly feel part of and contribute to - hopefully establishing a tradition that will continue to benefit the community for many generations to come...
High Tide wishes to thank Manorbier Community Council, Pembrokeshire County Council, Texaco, PAVS, Manorbier W.I and one local resident who wishes to remain anonymous for their help in funding the event. Anyone wishing to contribute to High Tide in 2005 should contact Chris Elliott or Angela Rogers on 01834 871931.